Basic Handling Package
Optimum group size -1 class at a time (up to 6 classes in one day)

Maximum group size 2 classes at one time

This package is perfect for schools who would rather have a taster for lots of classes than a more in-depth look at particular curriculum areas.
Each talk lasts 45 mins -1hour, thus allowing multiple classes to be visited in one day. We can either set up in one room for the whole day, or move around from class to class, as required.

We will arrive at the school /centre at a pre- arranged time. A brief introductory talk will be given.

The animals will be on display and we will walk around the group.

Group members will have the opportunity to handle some of the animals.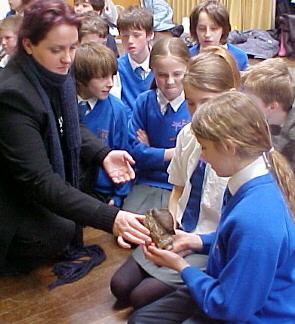 A concluding talk, with question and answers will be given.
The basic package is suitable for all age groups and can be adapted to suit all ability levels. All we require is a room with sufficient space for your group to sit in, a table and enough room for us to be able to walk around the group